A Rising Architecture Hotspot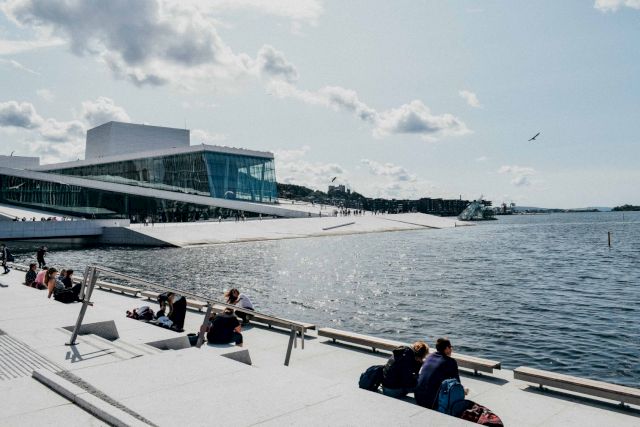 As far as contemporary architecture goes, Oslo is currently becoming one of the world's hottest cities. It's not just the ice berg-esque opera house on the harbor that sets new standards. The new trendy district of Tjuvholmen, created directly on the fjord, is also a hotspot for creative people. Here you'll find a plethora of current architectural trends as well as top-notch galleries like Gerhardsen Gerner, Galleri Brandstrup, or Peder Lund, who works directly with artists like Ed Ruscha or Richard Serra on a project basis. Noteworthy are also installations encountered here and there, such as one by Oslo-based Fredrik Raddum: a gigantic foot seemingly crashing through a parking-garage ceiling. An important part of the neighborhood is the Astrup Fearnley Museet, a Renzo Piano building featuring a sail-shaped glass roof. Not only one of city's most idiosyncratic structures, it also boasts an exquisite private collection of contemporary art. Right next-door is Tjuvholmen Sculpture Park, with a bathing beach and works by Louise Bourgeois, Anish Kapoor, and Franz West. Creative forces are also concentrated in the Kunstnernes Hus (English for artists' house), a striking functionalist building directly on the palace park, where you'll find Norway's largest artist-run gallery. It features exhibitions, a cinema, a bookstore, a restaurant, a variety of open studios, and a lecture room. Within a few minutes walk you'll reach the National Museum—the Nasjonalmuseet—with its excellent collection of modern Scandinavian and international art. Of course there are also works by Edvard Munch here. In any case, the city's most famous artist is hard to miss in Oslo. His paintings hang in the luxurious Hotel Continental's bar, where the passionate wine drinker paid his tabs in drawings, or in chocolate manufacturer Freia's canteen in the northeast of the city. Of course, you shouldn't miss the Munchmuseet, which moves into a spectacular new building in 2019. In 2020, the National Museum will also find a new home. If you come to the city now, you'll experience first-hand how it's reinventing itself.
Frankfurt am Main-based writer Sandra Danicke is a correspondent for the art magazine Art, where she reports on contemporary artists and all art historical time periods. In addition, she holds a PhD in art history and works as an editor for the Frankfurter Rundschau and as a freelance journalist for Die Zeit and the Süddeutsche Zeitung.