America's Booming City for Collecting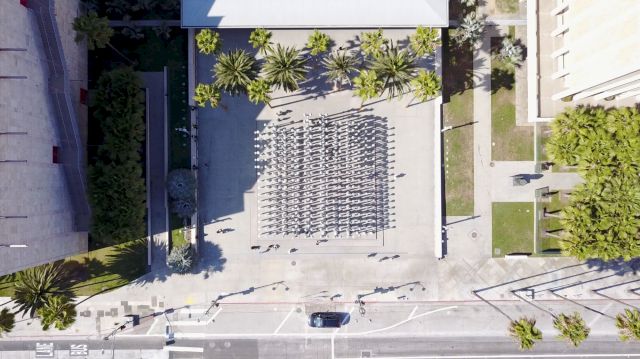 Taken from the fourth edition of the BMW Art Guide by Independent Collectors which features 256 collections in 43 countries, the Art Guide features a number of short texts that take a closer look into the vast world of collecting with new texts from Shanghai, Sydney and Vienna.
Los Angeles's chief cultural contribution may still be on the silver screen, but the city's art scene is booming too. Artists are moving to the city in droves, both from America's other major art center, New York, and from more artist-friendly metropolises like Berlin. L.A. has no small advantage in attracting them: its rents are still relatively cheap (unlike New York) and its populace is wealthy (unlike Berlin) with a growing cadre who are passionate about contemporary art. The Southland's institutions are flourishing. Its newest addition, The Broad, opened to the public in September 2015 and houses the Broad Art Foundation's collection, assembled by real-estate magnate Eli Broad and his wife Edythe. But it's hardly the only game in town. Just a few steps down from the city's arts and culture locus of Grand Avenue is the Museum of Contemporary Art, Los Angeles, one of three MOCA venues in L.A. MOCA's largest space, The Geffen Contemporary at MOCA, is just minutes away as well. Head half an hour west by car (traffic allowing) and you'll hit the Los Angeles County Museum of Art (LACMA), the largest of the city's art institutions. But L.A. has much more than museums to offer. Fairs like Art Los Angeles Contemporary (ALAC) and LA Art Show in January bring additional collectors to the city each year. And over the past years, outposts of some of the world's most influential galleries have opened in the city. In September 2015, New York dealer Michele Maccarone opened a multi-use complex in a former warehouse downtown. The following February, London and Berlin's Sprüth Magers opened a gallery across from LACMA, and one month later, Hauser & Wirth teamed up with esteemed, former MOCA chief curator Paul Schimmel to open Hauser Wirth & Schimmel, in a 9 000-square-meter former flour mill downtown. And, that's not to mention L.A. stalwarts like Regen Projects and exciting young spaces like Night Gallery, François Ghebaly Gallery, and Freedman Fitzpatrick, which are peppered across the city's many neighborhoods. As the saying goes, if you want to see what's next in North American art, go west, young man.
Alexander Forbes is a New York based art writer and critic, currently serving as Artsy's News Editor. Prior to relocating to New York, Alexander was based in Berlin as the European Editor for artnet and German Bureau Chief for Louise Blouin Media.