The Open Road to Jupiter
Robert & Nicky Wilson - Jupiter Artland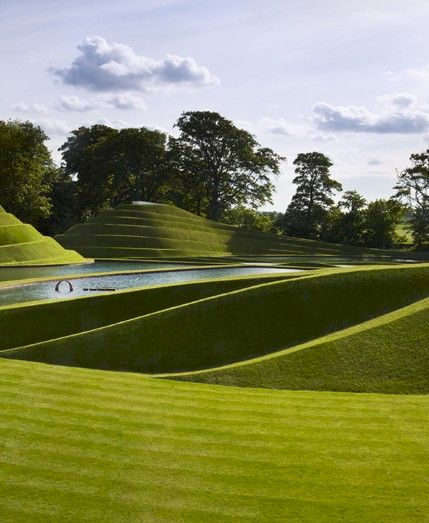 Charles Jencks, Life Mounds, 2005 - present
A stone's throw away from Scotland's capital, the pure, warm sound of Caribbean steel drums rings out across the sprawling grounds of Jupiter Artland. In the year that Jeremy Deller represents the UK at the Venice Biennale, it is a major coup for the Scottish sculpture park to be showing an exhibition of his collaborative work and this joyful performance by Deller's long-term collaborators Steel Harmony sets the tone for a day of vibrant discovery.
At the heart of this dynamic collection lies the family home of Nicky and Robert Wilson. Their ethos as collectors is grounded in the provision of a space where invited artists and visitors alike can grow their ideas as organically as the surrounding landscape. Their openness means that whether indulging in a mellow day out with the kids or undertaking a serious art pilgrimage, a trip to Jupiter will always make for a rewarding and resonant journey.
Dappled light filters through broad leaves onto a manicured lawn where children gambol and a hip crowd of art lovers tap feet to the transformed anthems of the British underground. The joyful dancing and surrounding lush nature is reflected in the gleaming, pop-rainbows of Jim Lambie's "A Forest". This work borders a woodland path which will lead us to intimate encounters with more of Britain's highest-profile contemporary sculptors. As gin cocktails chink and fizz on the lawn, the sounds of our high spirits drift over the Steading gallery walls to the courtyard where Alan Kane and Deller's "Steam Powered Internet Machine" chugs away, releasing occasional crowd-pleasing jets of toot-toot steam. The laptop to which it connects - in a playful line drawn between the industrial and digital revolutions -, is being rigorously checked by Nicky Wilson, keeping a watchful eye on the forecast as giant puffy clouds gather and disperse overhead, threatening to rain on our parade.
The Wilsons long considered themselves serious collectors, but the move to Bonnington House in 1999 presented the ideal vessel in which their ambitions could take shape. This 100 acre estate was to become home, not just to their growing family, but to their burgeoning passion for contemporary sculpture. Each of the 31 works in the permanent collection has been directly commissioned, developing symbiotic relationships with artists and affording them the freedom to respond to the land. Works such as Nathan Coley's arresting "In Memory" mine the site's nebulous histories for inspiration and Cornelia Parker's staggeringly-scaled "Landscape with Gun and Tree" is an addition to the landscape which is deeply imbedded in the Wilson's legacy. Citing Ian Hamilton Finlay's garden "Little Sparta" as having been profoundly influential in the creation and ethos of Jupiter Artland (Finlay's work also features prominently), Nicky wishes that more private collections were accessible to the wider public: "It's like cracking open a walnut and seeing the brain of the collector; seeing all their loves and passions and delights in their life held in one space" Each distinct area of Jupiter is resplendent with the jewels of the Wilson's passion for collecting. The entry path emerges between the landscaped folds and gullies of Charles Jencks' "Lifemounds" where children shriek with delight, climbing the whirling grassy knolls to take in the view which unfolds before them like the pages of an enchanted children's storybook. Marc Quinn's Triffid-like orchids loom on the horizon and in a hidden grotto studded with sparkling Amethyst, Anya Gallaccio elicits gasps of wonder from adventurous art hunters of all ages.
It is not every collector who will proffer their treasures so freely, but the Wilsons were resolute right from the start: "You can't really keep these things to yourself" sums-up Nicky "it just seems wrong!" It is in this spirit of generosity that the Jupiter Foundation education and residency programme was founded; the Wilson's firm belief in the transformative power of creativity and beauty has resulted in a family-friendly art space which maintains both openness and a cutting-edge scope. With the expansion of the BMW Art Guide by Independent Collectors, walls around private collections are effectively coming down, leading to opportunities for ever-broader audiences to reap the benefits. As someone who relishes the chance to network and view other collections, Nicky welcomes such initiatives as a mechanism for greater openness and fluidity in conversations around collecting. As tea from the glorious Deller/Kane "Tea Urn" replenishes a thirsty crowd returning for a break in their day's adventures I am reminded that, like most British rituals, the cups of tea which keep this nation pepped are the legacy of cultural influx and exchange. The Wilsons demonstrate just what can be achieved when creative exchange is stimulated and opened to unexpected elements. As Jupiter grows and changes with the seasons, active relationships with its artists and public continue to cultivate ever-deeper roots.
Kate Andrews is an Edinburgh-based writer, curator and founder of "JaAliceKlarr projects"; a cross-disciplinary curatorial collaboration.