The bustling metropolis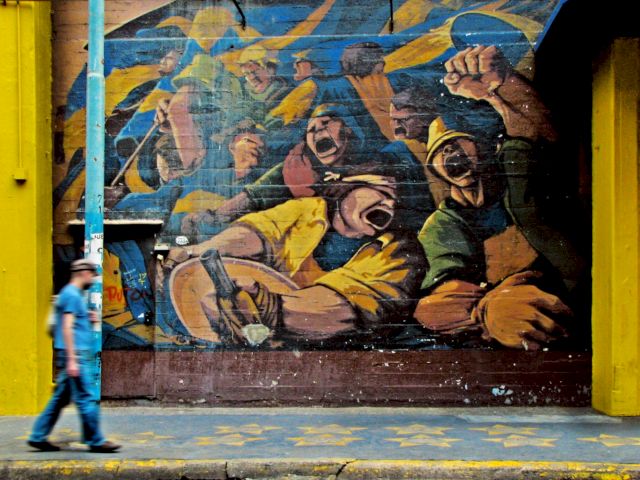 The second volume of the BMW Art Guide by Independent Collectors does not just feature 217 art collections in 41 countries, our authors also wrote a number of Shorties. These short texts take a closer look at specific topics like the processes of auction houses or the meaning of architecture for a collection. In addition, seven Shorties focus on art metropolises around the world. We have already introduced you to the energetic art scene of Berlin, but this time we want to take you to South America, to the vibrant capital of Argentina: Buenos Aires.
"There is no shortage of museums, galleries, and other art venues in Buenos Aires, the bustling metropolis on the Río de la Plata. Too bad, then, that they are spread across so many different quarters, with melodious names like Recoleta, Retiro, Palermo, and Belgrano. Carefully planning your art sojourn, therefore, is crucial. The comparatively cheap black-and-yellow taxis and their friendly drivers will do the rest. Aside from the private museums presented in this guide, one should definitely visit the Museo Nacional de Bellas Artes, with its extensive collections of European and Argentine art from the Middle Ages to the twentieth century.
International art discourse continues at the private Fundacíon Proa, in the colorful harbor district of La Boca. Whether Rosemarie Trockel, Louise Bourgeois, or the Argentine rising star Leandro Erlich—all have had a big show in this gleaming white building. Even the bookstore is worth a visit. You can also find a fine selection of Argentine and international art books and magazines in the well-stocked Librería Purr, on the grand boulevard Avenida Santa Fe. The galleries Ruth Benzacar and Jorge Mara-La Ruche, both regular exhibitors at Art Basel Miami Beach, offer Argentine avant-garde at the highest level. Each year in late May, right in Argentina's autumn, the art fair Arteba, which specializes in Latin American art, attracts up to 120 000 visitors. Friends of photography will find fine works at the photography fair Buenos Aires Foto, at the end of October. This fair is organized by the team behind the website Arte Online, which also organizes gallery nights on the first Thursday of each month. There are also off-spaces, but here they have a rather nomadic character or are open for one show only. It's best to pay attention to local flyers to discover what's going on."
The journalist couple Nicole Büsing and Heiko Klaas have been writing freelance art journalism and art criticism since 1997 for a variety of national and international art magazines and newspapers.