Galerie Fons Welters – Amsterdam, The Netherlands
A Doorway to Amsterdam's Contemporary Art
Photo: Joep van Lieshout
It's the setting that Amsterdam is perhaps best known for: bicycle-lined streets with dark green water on one side, long stems of red, purple and yellow tulips on the other, and the occasional romantic criss-crossing of sloping bridges. As you wander through the gracht-filled district of the Jordaan, however, you might also stumble upon an imposing and mysterious khaki-green door that looks somewhat…different.
The answer is that this door, which previously gave way to a garage, is now the entrance into the universe of contemporary art: a laboratory of a more creative persuasion. Focusing on sculpture and installations, Galerie Fons Welters is one of the Dutch capital's most celebrated centers for art. The gallery has had a relatively long history of 'discovering' successful artists, due to Welters' eye for spotting young and emerging talent – always following his gut feelings. He has been one of the early supporters of Magali Reus, whose sculptures dissect modernity, as well as Joep van Lishout, the prolific sculptor and designer of that infamous door.
Some of the artists on the roster at this central spot, which was established in 1988, are Jennifer Tee, with her spiritually engaged works, Evelyn Taocheng Wang, whose performances and paintings deal with the exchange of labor and the performance of identity, and Olga Balema, with her off-kilter, tech-DIY aesthetics.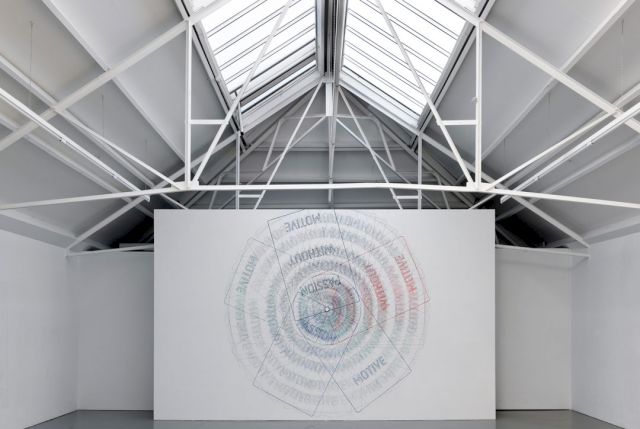 What is abundantly clear is that behind this odd door lies an open mind, that is always striving beyond the fetters of conventional art practice. For example, the gallery represents Renaissance man Gabriel Lester, whose ambitious, inventive work is inspired by cinema but "embraces every imaginable media", on its mission to interrogate how we perceive the world.
But beyond the curved windows of the door you will also find an exploration of the younger, more experimental art that the city has to offer. In 2000, the gallery expanded the front section of the gallery, creating an area specifically dedicated to recent graduates, a move that cemented Welters even further as a supporter of artists on every level of their careers. For example, a recent show exhibited the work of Laurens Stok, whose sensationally bright paintings are a spirited take on the wonders of banality.
But these artistic positions don't only remain behind that weird and wonderful door: the gallery is a regular at Art Rotterdam and Art Cologne, and has participated in Frieze, Art Basel's Swiss and Miami fairs, ARCO, Unseen, Armory and many more. This excellence in artistic practice was noticed by Art Basel, who awarded Fons Welters the FEAGA lifetime achievement award in 2015 for all his hard work: behind the green door and beyond.
by Josie Thaddeus-Johns
Josie Thaddeus-Johns is a writer and editor based in Berlin, covering art, music, film and more. She writes for the Guardian, Broadly, Creators Project, and others. She is currently working on her first novel.
All images courtesy Galerie Fons Welters, Amsterdam