Matteo Novarese
SOF:ART – Bologna, Italy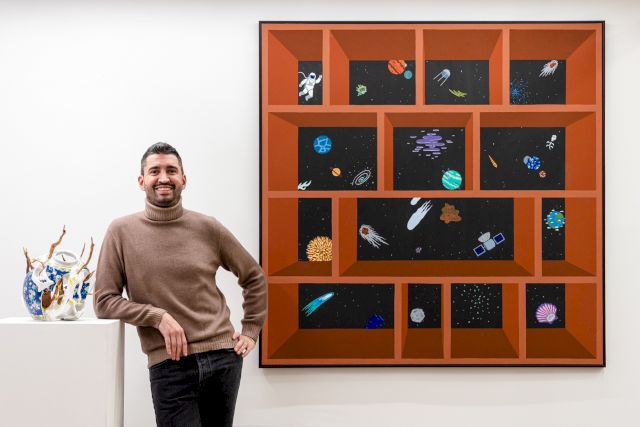 Matteo Novarese infront of Camilla Alberti, 'Unbinding Creatures, Organism 26' 2021, Jimmy Milani 'Untitled (my bookshelf)' 2022. Photographer Guido Calamosca, Courtesy SOF:ART.
After two very intense years, ten shows and more than forty artists presented at SOF:ART, they've decided to expand their view and let their ambitions become a reality.
A new location in Corte Isolani 1/c, Bologna, has been contaminated with Contemporary Art. The new space with a strong architectural soul from the middle age is the new stage, where they recently opened the first show "Feels like home" with eleven magnificent Italian and international artists touching most of the media present in the collection: installation, paintings, collages and sculptures.
The journey through their contemporary art collection continues, but new scenarios are blooming.
Here you can find an interview with Matteo Novarese, who is the collector behind SOF:ART. He has a great passion for contemporary art and the desire to share it with the world.
Why do you collect?
I do collect because I love art. This sounds like a very trivial answer, but it is the pure truth.
When you are immersed in a world that enriches you as a person humanly and culturally, in social relationships, opening your mind to stimulating and entertaining horizons, well how can you not love that?
Regarding your collection, what role/value holds the first piece of artwork you purchased?
The first artwork represents my whole self, for so many reasons. First, because with a background like mine that was completely out of the art world, it gave me a way to create a collection starting by myself following my own taste and vision. The street art movement involved me within this magnificent world, I began to travel to see the works on all the walls of the most important European capitals, I identified the artist in Paris who had impressed me the most, and owning one of his works made me finally feel like a collector.
How has collecting changed your approach to art?
Well, since my first purchase I change my approach to art. Before was something beautiful that I could enjoy time to time, when I was traveling, going into museum etc. After my first purchase I realized that I could appreciate a work of art or already thinking more broadly a collection of my own every day of my life. This thought has pushed me as far as I have gone and is the flame that gives me an increasingly ambitious perspective for the collection, which now has nearly 500 works and two private exhibition spaces.
What is your biggest hope for the future of art and collecting?
My biggest hope is to have fine academy students being more involved into the art system at the very beginning of their career.
I think that the collector can play an important role for their growth, and could become a clue figure for them, providing some 'insider' advices in order to let them have a better understanding of the market, how to catch the attention of the galleries and how to select them.
In what way will digitization enrich collecting (digital and physical) art?
Honestly my view over the digital art is not really positive (if for digital art we intend NFT's world).
I think that digitalization will be a great support to manage the collection for example: right now there are a lot of super nice programs allowing to have a very useful archive and a wide view of the collection in a click.
What was the most unexpected private art collection that you encountered?
The most unexpected private Art collection is without a doubt the Rachofsky collection in Dallas, that I recently visited.