Myriam and Amaury de Solages
Maison Particulière – Brussels, Belgium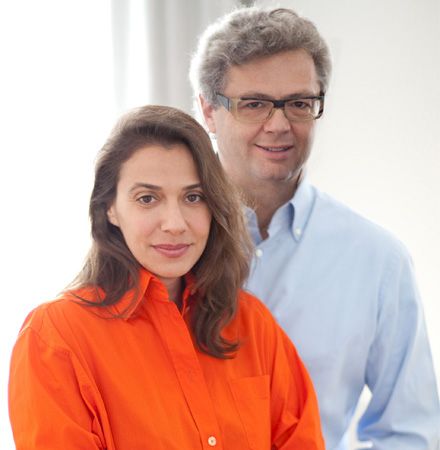 Myriam and Amaury de Solages
What was the first piece of artwork you purchased, and when was this?
In my twenties I (Amaury de Solages; editor's note) bought a work of Eduardo Arroyo, that was in the 1980s. I (Myriam de Solages; editor's note) bought a "primitive" African art object in my twenties.
Why do you collect?
If collecting is acquiring art: for the great pleasure it gives to live with artworks. If collecting is a "state of mind": for the absolute necessity to be emotionally and intellectually challenged.
Does your collection follow a concept or a specific theme?
We are too curious. Being open-minded is essential when you collect. And anyway, right now we don't think there is any "school" to follow.
Who are the artists you are currently following?
Following an artist is another story as it gives us enormous pleasure to see how an artist evolves, especially when he is young, to accompany him through his work. For example, for some time now we have been following the works of Mondongo from Argentina, Angelo Musco and Alvin Booth from the United States, and Thomas Lerooy from Belgium among others.
Do you have a personal relationship with the artists you collect?
Not systematically. It is of course simpler with artists of our generation or younger. Having the opportunity to have long conversations with some of them is enriching, like when we were preparing our exhibition "Sex, Money & Power" with Kendell Geers.
Why did you decide to make your collection publicly accessible?
When it was not possible anymore to have all our works at home. So instead of buying a new house, we opened Maison Particulière for the public and we invite other collectors to show their works there.
Which publicly accessible private collection would you recommend visiting?
Collezione Maramotti in Reggio Emilia in Italy and Fondation Francès in Senlis in France.
All images via Maison Particulière