Charles Riva
Charles Riva Collection – Brussels, Belgium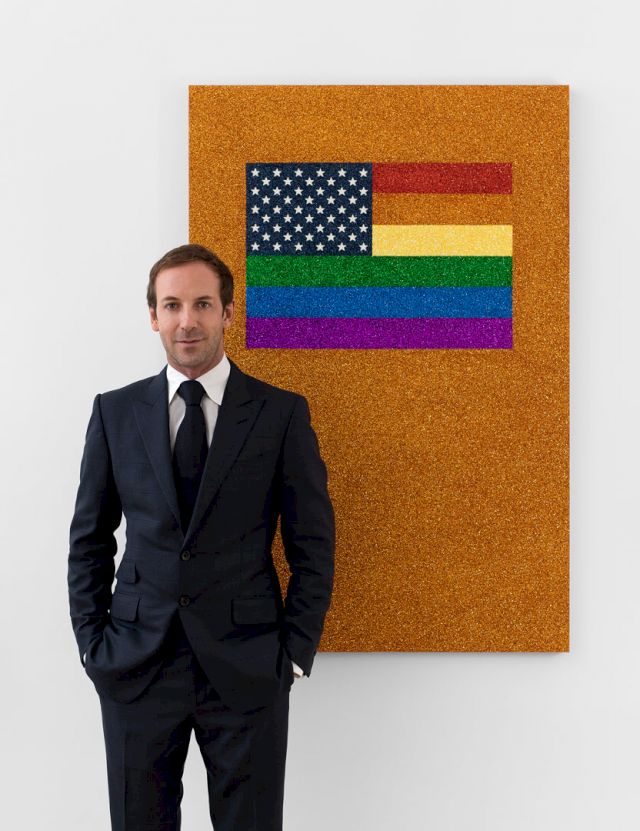 Charles Riva. (on wall) Jonathan Horowitz, 'Rainbow American Flag on Orange Field II for Jaspers in the Style of the Artists Boyfriend', 2015 Courtesy Jonathan Horowitz and Xavier Hufkens Brussels. © Thomas Mueller, New York / Hugard and Vanoverschelde
Why did you start collecting art?
My parents were a painter and an architect so in my early years I was surrounded with arts and sketches. Very soon collecting started to become an obsession. In 1997 I opened my first art gallery "Riva Gallery". As an art dealer, I started collecting artists that I used to include in my shows among many others – I had found a balance between my activities. The collection opened in 2009 and is a result of my obsession!
What was the first piece of artwork you purchased, and when was this?
It was a brushstroke lithography from Roy Lichtenstein that became later on the cover of the catalog "Raisonnee".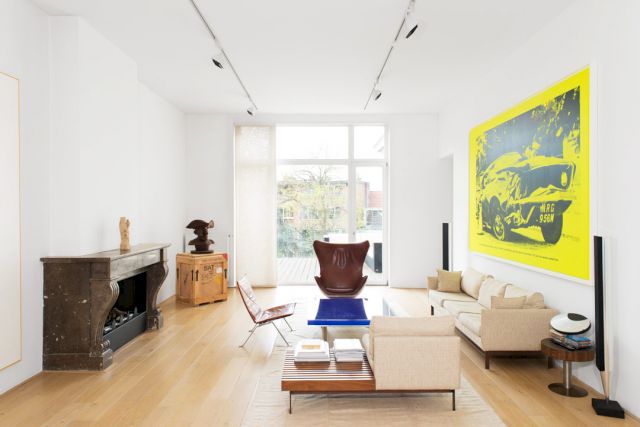 Does your collection follow a concept or a specific theme?
American artists primarily compose my collection as I have had a specific relationship with American art since I lived in New York. I collected mostly American artists and I decided to offer visitors of my collection the possibility to discover works that are not widely shown within Europe. Brussels is an interesting city for considering the project due to the international community presence and its strategic situation in Europe. The only concept I have is to offer an opportunity to see artists in a private context. I am more interested in the experience that one can have by discovering an artwork rather than the concept. It is why today, after seven years, I am working to highlight my project with a cultural program and specific events. I have also recently developed a new project with an exhibition room dedicated to contemporary sculptures "Riva Project" as I wanted to offer a specific perspective on this medium because there are amazing contemporary artists and works working with it.
Who are the artists you are currently following?
I have been really focused on Frank Stella for a couple of years now. He will be featured in the upcoming exhibition in April 2017. I visit exhibitions around the world dedicated to the artists I am interested in and attend auctions to discover rare works. I also meet with a lot of people to help me find a work, as well as meeting with the artists themselves. Frank Stella, Robert Rauschenberg, Ed Ruscha and John Baldessari are all artists that I am buying at the moment, however I am also paying attention to what happens with the young American artists.
Do you have a personal relationship with the artist you collect?
Not always but I do with a few of them.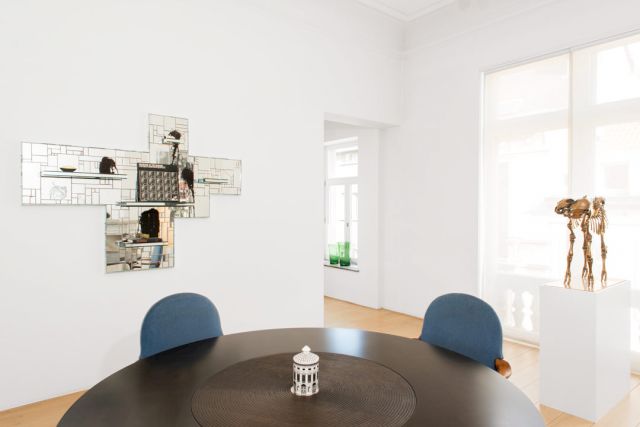 Why did you decide to make your collection publicly accessible?
An art collection is like a puzzle, you know when you are ready to show it. I opened the collection to the public in 2009 so I could share my passion with a large audience. I consider it important to share your interest with others and I had the opportunity to do it. I want to offer visitors the possibility to discover American artists, contemporary art and rare works in Europe. Today, I am working on a cultural development program to propose a more complete and rich experience around the collection.
Which publicly accessible private collection would you recommend visiting?
I travel a lot and I discover many interesting private collections, art spaces and other projects around the world. But if I have to recommend visit I can suggest, in Brussels the Vanhaerents Art Collection for its amazing building and its eclecticism, in Venice the Palazzo Grassi, the François Pinault Foundation for its space, location and high quality program, and in Connecticut the Brant Foundation for its remarkable work and program.
All images courtesy Charles Riva Collection, Brussels