Alain Servais
Servais Family Collection – Brussels, Belgium
Portrait of Alain Servais. On wall: Matthew Day Jackson, 'Cult of Death #8', 2009
What was the first piece of artwork you purchased and when was this?
The first works that I bought with the awareness of art, was in 1997 with photographs by Nan Goldin and Andres Serrano. Prior to 1997 and this nascent awareness, there were works that I had purchased "instinctively" such as a Philippe Pasqua that I acquired in his studio in New York in 1994 and a $100 painting by an unknown artist that I got from a gallery in the East Village in 1987.
I don't believe that one decides to become a collector, but rather that you are or you are not. And more generally, collecting is more than acquiring works of art. It is a way of living, a way of thinking.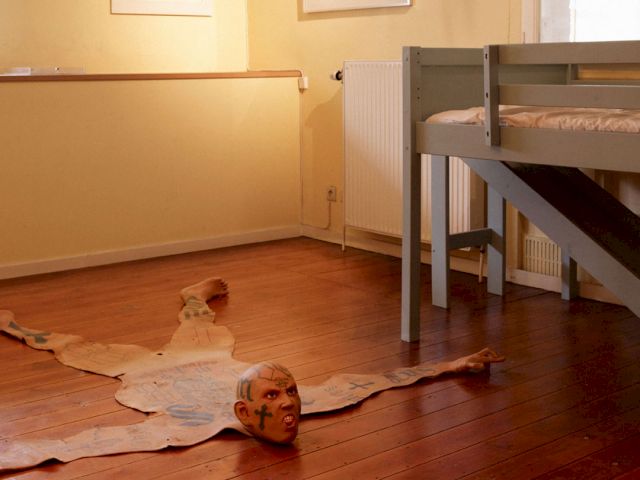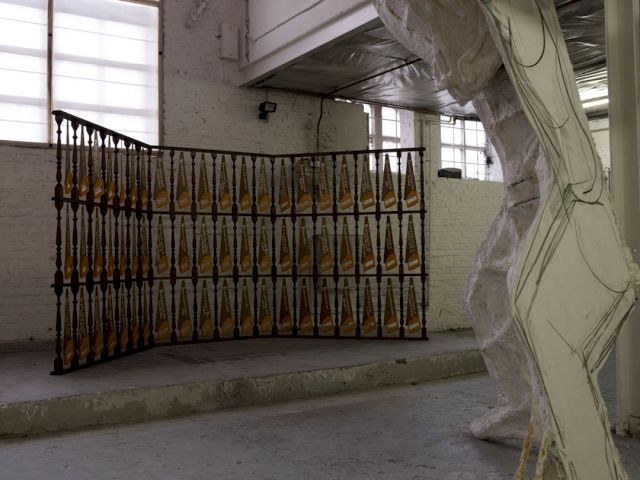 Why do you collect?
To express myself. Adding my "sentence" around the "words" created by the artists. To share new ideas, questions, doubts, and surprises. To learn about myself and the world I am living in, so to open my mind to other options. To participate in the constitution of the history of the art of today. To feed my insatiable drive to learn what is not taught. To think outside of the box.
Does your collection follow a concept or a specific theme?
In my opinion, a collection will always be an image of its initiator. However, for a collection to be interesting, the collector must not only "collect himself", but instead open up to a broader reality. I am constantly trying to meet that challenge.
Within that context, there are a number of themes that cross each other in various works across the collection to give it diversity, which I believe is inherent to human nature. I would hate for the collection to be entrapped by never evolving themes.
I am interested in humanity, the way we live together and how we organize ourselves today and all over the world but I am particularly drawn to minorities, as I believe it is in their treatment one can judge the level of "maturity" of a society. It draws from the fascinating studies and writings of Claude Levi-Strauss on anthropology and ethnology with developments towards psycho-sociology.
The groundbreaking book by the French philosopher Edgar Morin "The lost paradigm: human nature", taught me as an adolescent that despite their efforts to extract themselves from and pretend to dominate nature, humans are often so much easier to understand through their "natural" side, their "animal" side which implies violence, instincts, sexual drives, etc. This book can explain a certain "rawness" in the collection.
My still-growing knowledge of art history convinces me every day that the art worth collecting, that the art that some will want to see in 30 years time, is always closely related to the socio, politico economic context of the society it develops in. It forces me to ask myself continuously what history in 100 years will remember from our times. From that question I developed my interest in a globalized art scene in line with the clear trend towards a globalized world but also in a deep interest for digital art which fits the fabulous development of computers and the internet. It includes also a deep interest in ecology.
Finally, art must surprise me, challenge me, open up my mind and heart following the definition that I heard many years ago from Mera Rubell: "Art is a language which opens your heart to the Other."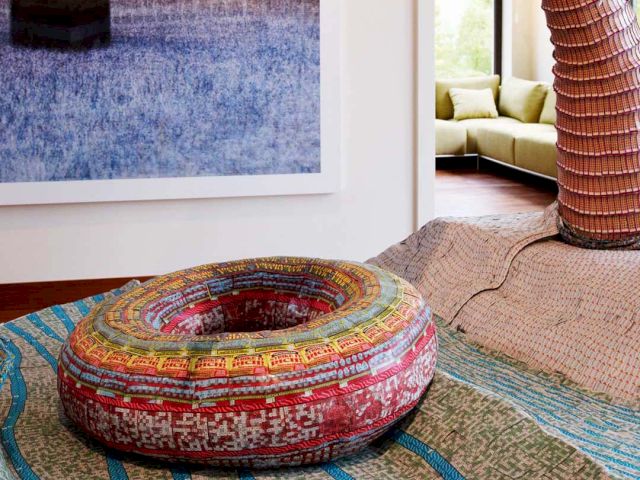 Which artists you are currently following?
Ian Cheng, Hito Steyerl, Julieta Aranda, Nina Beier, Robert Rauschenberg, Liu Chuang, Fritzia Irizar, Richard Tuttle, Tabor Robak, Hiwa K, John Gerrard, Julien Charrière, Jon Rafman, Ryan Trecartin, Hassan Sharif, to name but a few.
Do you have a personal relationship with the artist you collect?
For me it is not a necessity before acquiring the work. The only exception is if I need some reassurance regarding the "sincerity" of the artist. After the purchase, I feel freer from what is basically a commercial relationship and therefore happy to interact with the artists when it is possible.
Why did you decide to make your collection publicly accessible?
The collection is a family effort; particularly from my father whose Foundation Henri Servais supports its accessibility. We do not believe that we are more than the custodian of the works of art for the public and for future generations.
The Foundation Henri Servais supports initiatives towards personal development and community building. Making the collection accessible to the public fits that goal perfectly.
All images courtesy the Servais Family Collection, Brussels