Galila Barzilaï-Hollander
Galila's P.O.C., Brussels, Belgium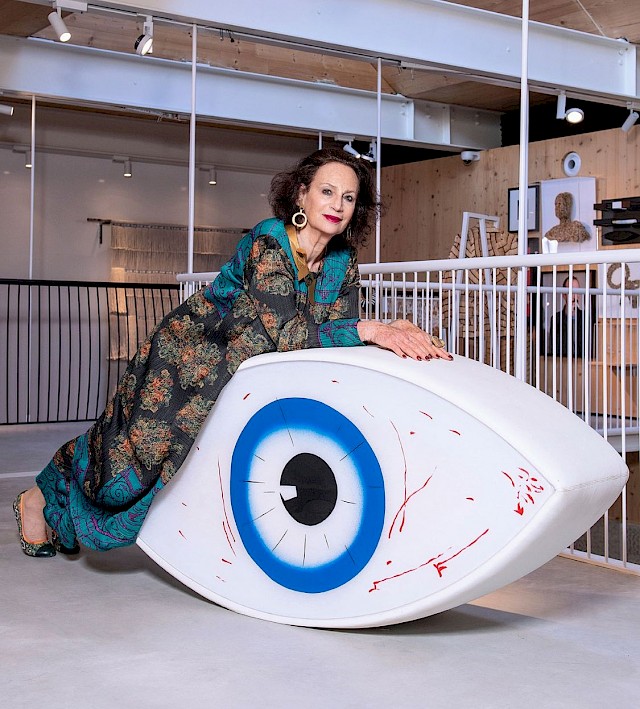 Galila Barzilaï-Hollander at the collection headquarters, Brussels. Photo: Diego Ravier
You bought your first contemporary artwork in 2005. How important is having the title of "collector" to you?
Not important at all. On the contrary, it makes me rather uncomfortable. I feel like I'm placed in a box wearing a uniform.
Had I been asked to provide my own definition, I would say, a cocktail of admirer, lover, devoted, enthusiastic, addicted to/of art.
Your collection, aptly named Galila's P.O.C.–and meaning, passion obsession collection–is renowned for its distinct thematic categories, what do these include and how did these develop? Does this render an attachment in collecting rather to the themes than particular artists?
Since I never decided to collect, I had no clear or predefined vision of the act of collecting. It is also important to mention that my knowledge in contemporary art at that time was "below zero". My late husband was an antique collector, "allergic" to contemporary art.
It all started by a pure, innocent and amusing misunderstanding–visiting the Armory Show in New York (2005), supposing it was an exhibition about armors. I bought my first work as an emotional echo to a very painful moment in my life, just a few months after my husband passed away. Less than half an hour later, I had experienced a sense of rebirth – back to life!
Discovering the contemporary art world in such circumstances brought me a sense of connection, energy and hope–a "Rendez-vous" with my inner self. Looking backwards now, I understand that the various themes in my collection are the "children" of this rebirth. Each theme finds its source in my personal, secret and emotional universe.
To cite only some of the major ones (without hierarchy) are Eyes, Books, Chairs, Money, Eggs, Watermelon, Measure (in the large sense), Interfaith, Cigarettes, Monochrome (black and white), Duality and a few more…
Providing an explanation on each theme would be a psychological strip tease. I am afraid I am too old for that...
In the process of selecting an artwork, what dominates my choice is the work itself. The name of the artist is brought to my attention only afterwards. That makes the collection a "Tower of Babel". Worldwide artists, different cultures, speaking different languages, yet creating a wonderful dialogue among themselves. In French I would say "Vivre ensemble".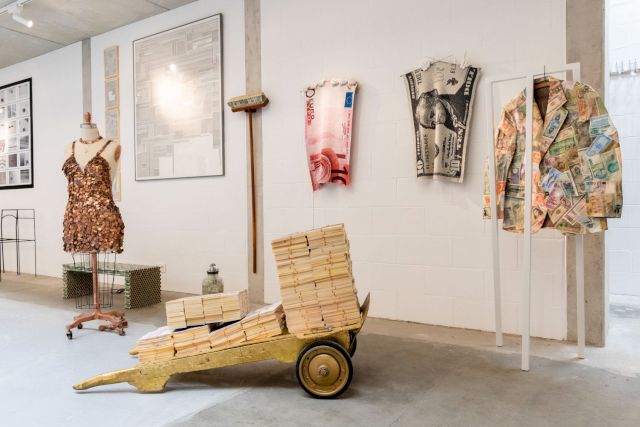 In your opinion, what mistakes do young collectors commonly make? And what mistakes did you make when first starting on your collecting journey?
I feel the biggest mistake young collectors make is simply not trusting their gut feeling. I would simply tell them "Listen with your eyes". I would also tell them, "It is right to be wrong". It is only with the intuitive practice that we can experience, learn and improve.
The major mistake I made when I started my "journey" was exactly the few times I did not trust myself and accepted other people's opinion (the future proved I was right …).
My message is very simple: Making your own mistakes, and taking responsibility for them is the best school.
Pre-pandemic, were you traveling frequently for the purpose of following the art world?
Yes. In the pre-pandemic time, I was constantly travelling from one country or continent to another without having time to take distance, digest or think.
What would you like to see shift in the Art World post pandemic?
My ideal post-pandemic world would mainly be focused on the distribution and frequency of the art fairs. I dream of turning most big art fairs into Biennales, while enjoying on a yearly basis a smaller, local and focused fair.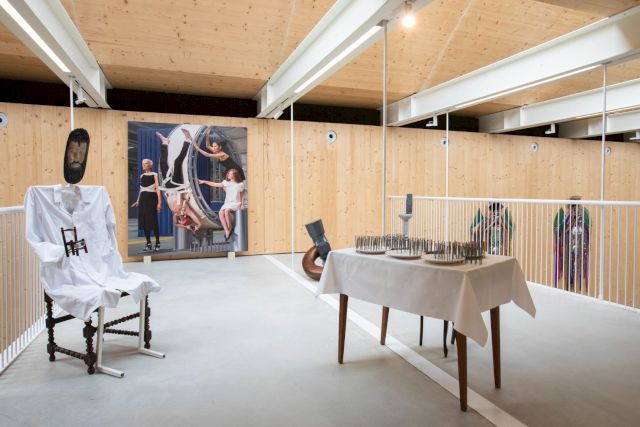 How/why did you arrive at the decision to share your personal collection within the realm of public view?
The major trigger was an extraordinary six month exhibition at the Boghossian Foundation (Villa Empain) in Brussels, 2014, titled A book between 2 stools. Approximatively 250 works were selected from my collection, mostly presenting emerging and mid carrier artists. The spontaneous emotional feedback I received from the visitors opened up my heart and mind, I felt and understood the joy and importance of sharing.
In addition, another "side effect" was the understanding and full awareness of the collector's role in promoting their emerging artists (some galleries for exmaple, discovered and took over an artist they did not previously know about).
What has been the most challenging work of art in your collection, either for yourself or the public?
For myself there are 2 works by the artist Ry Rocklen, both dated 2015, titled:
1. Textylz Display Panel (White)
2. Black shower
These 2 works had been empowered by placing them in a very specific context (Holocaust), very far away from the original narrative of the artist. All agree on their symbolic power in this new context.
For the public, the most challenging work is a sculpture by the Spanish artist Eugenio Merino, titled Stairway to Heaven, dealing with the subject of interfaith.
What is a beautiful moment from Galila's P.O.C., or your life as a collector that you would like to share with us?
Beside having the joy of seeing people leaving Galila's P.O.C. with a smile on their face and hearing them expressing a sense of energy, positive thinking, hope, enthusiasm, etc., is that more than once I have I heard the following comment, "Thank you, your collection reconciled me with contemporary art".
Which publicly accessible private collections would you recommend visiting?
The question is delicate to answer. There are so many great private collections to discover. Each collection has its uniqueness.
Nevertheless there are two collections I feel personally connected to, similar to chemistry between two strangers. One is the collection of Mr Joop Van Caldenborgh who is behind the Voorlinden Museum in Wassenaar in the Netherlands. The other collection is the Collezione La Gaia in Busca, Piemont, Italy.
Again I insist, this is very personal and does not exclude so many other wonderful collections.