Carmelo Graci
Graci Collection – Mantova, Italy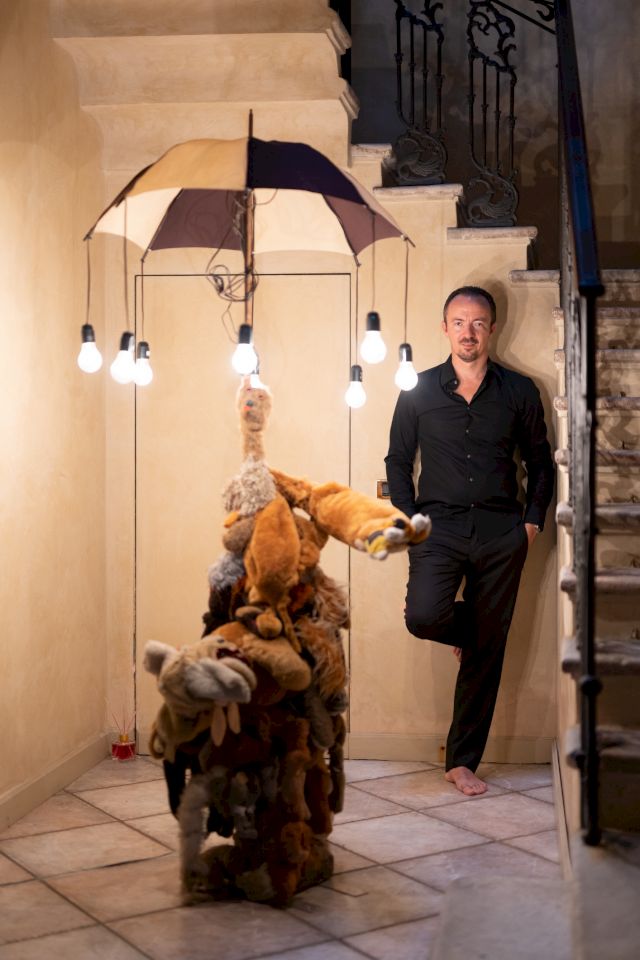 Carmelo Graci and "Untitled", Gelitin, 2004, Graci Collection. Photo: Silvia Affini.
Collector since birth, for about 20 years Carmelo Graci has been assembling contemporary works of art, aiming to create, thanks to the pleasure of research and far from trends, a unique collection with many traits of irony. Each purchase, regardless of medium and size, is characterized by curiosity and the search for dialogue with the other works in the collection.
In the so-called project room, the latest purchases are often concentrated or solo exhibitions by young artists are organized, followed and supported in recent years.
Among the artists in the collection Katharina Grosse, General Idea, Elmgreen & Dragset, Gregor Schneider, Maurizio Cattelan, Vik Muniz, James Lee Byars, Vanessa Beecroft, Adrian Paci, Andrea Zittel, Ruben Montini, Ayako Rokkaku, Fabio Ranzolin and Stefan Milosavljevic.
"Not exhibiting a work of art is like keeping a nice green plant in a garage in the dark, so I am always in favor of loans to museums".
What artwork initiated your collection?
I started collecting by purchasing a very large work by Enrico Baj, an Italian artist. The artist made fun of power and, out of my sense of self-irony, I liked hanging that painting behind my desk at my workplace. In practice, it is the same reasoning that immediately led to the purchase of Maurizio Cattelan's "Untitled (Christmas 95)".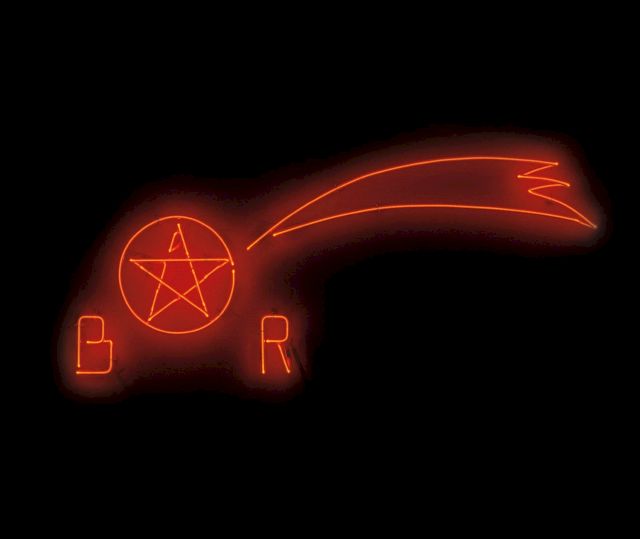 Irony is a theme still present in the collection. Now, obviously, being about 2,500 works, the identifiable themes are several. Despite this, in the building recently purchased and adapted to host and display a part of the collection, in the center of Mantua, the works are juxtaposed, without any difference between those of the artists, such as Olafur Eliasson, Isa Genzken, James Lee Byars, and those works of young artists, many of whom have been followed since their first works and exhibitions in gallery or art academy.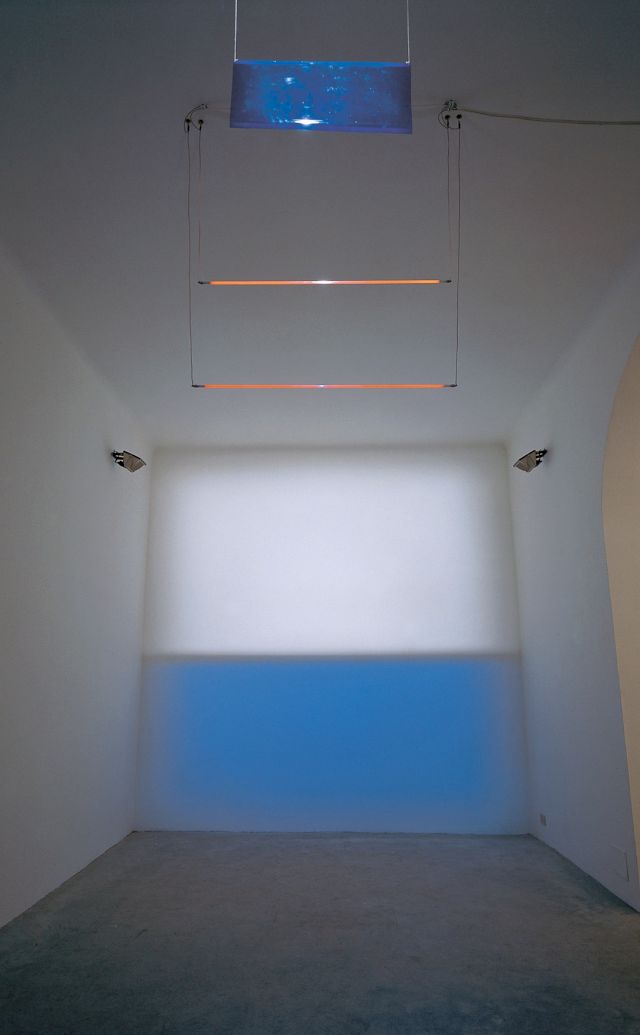 Coming from other forms of collecting - now I am also inserting Italian design elements from the 60s/70s in the building - it has been particularly easy for me to move in a market that allows a lot of space for those who are curious and want to grow their collection.
I began by collecting established artists, "very liquid" in financial terms, but immediately afterwards I became interested in the search for young artists and in the re-evaluation of quality artists, but in the shadows. In addition to the sensation that it generates for me, for each potential purchase, I greatly value the dialogue that the work establishes with the others already present in the collection.
I admit that I almost go in search - something known to the various dealers who follow me - for "difficult" works both from a commercial and logistical/installation point of view; so "difficult" that, when some other collector friend expresses appreciation in front of my purchase, I am amazed.
This, which could be defined as "courage", has played in my favor on several occasions, as in the case of "Andrea Candela" by Elmgreen and Dragset or "Fin de Siècle" by General Idea, now finding me works of absolute quality among the most important to their production.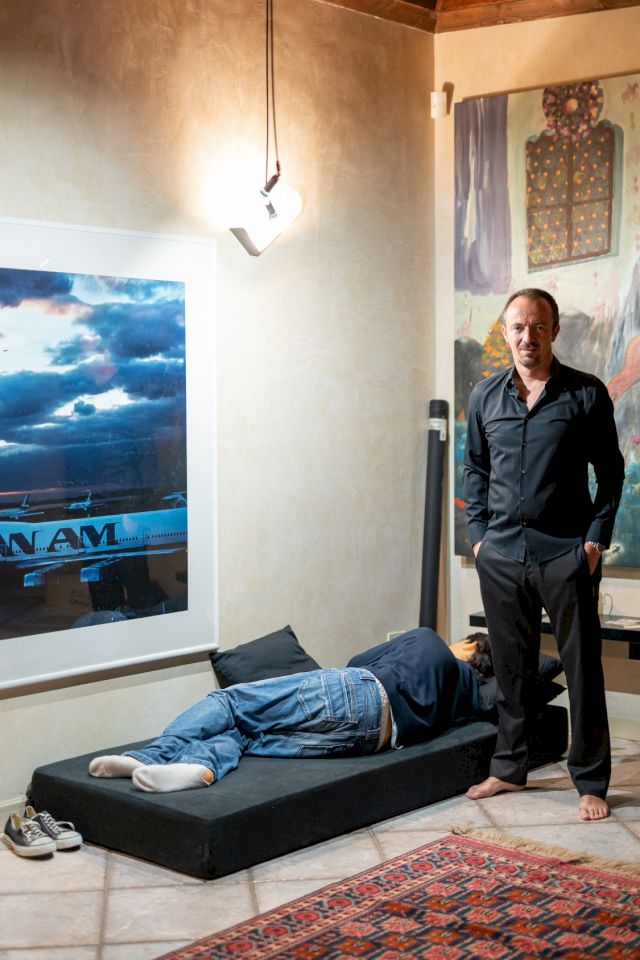 Among other things, I tend to prefer installations, which, as in part also the neon, tend to make the aesthetic space coincide with the social space. The latest purchase is a large installation by the young and talented artist from Los Angeles, with Iranian origins, Leila Hekmat.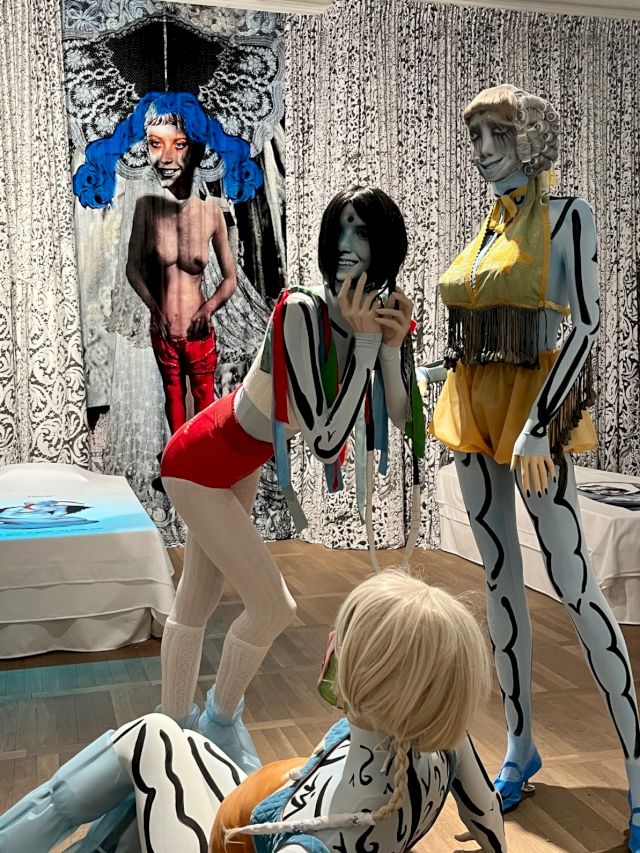 What comes with being defined as an art collector?
The collector has the function of preserving works of art from time as much as possible: preserving and conserving them, to share them at the right time. I like to say that it makes no sense to buy to put the work in storage and I say that it is like buying a green plant and leaving it in the warehouse; in fact however, when you have the worm of collecting, and you buy dozens of works every year, this inevitably happens. I consider sharing a moral obligation of the collector: this is the reason why I am always open to loans for large institutions or museums.
(In the photo Fin De Siècle by General Idea: just closed the exhibition at the National Gallery of Canada, the work is now on display at the Stedelijk Museum in Amsterdam and from September at the Gropius Bau in Berlin).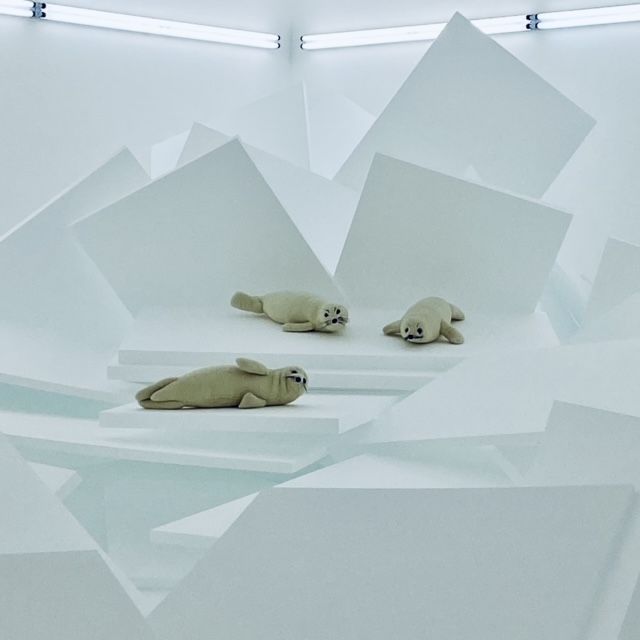 What role do events such as art fairs and vernissages play in your collecting process?
Practically I dedicate almost all my free time to art, requiring Silvia and little Sofia to travel around the world to combine the desire for a holiday with the major events in the art world.
In fairs and previews you understand the trend of the moment and above all they often become a place for discussion with many other friends with whom you share your passion.
Would you ever consider selling or gifting your collection to the public / a public institution?
With the use of the so-called loan, I believe the collector's function of sharing is largely achieved. The desire to possess is still strong in me. One day I asked a dear friend, a great collector who is no longer with us, how he managed to sell his most important works; he replied that over time, after so many years, the urgency of possession gives way to the ability to understand a work by observing it even in a public space. I envied him and still do, because I haven't reached that stage yet, and I can't get enough of material possessions. I believe that the true collector wants to live among the works he buys, and this makes any living space one can acquire practically insufficient. It was easier when I was still a teenager collecting stamps and phone cards!
In addition to the loan, the organization of events or parties allows me to share the works in the collection with the public. Last March 18, I hosted in my spaces the performance by Philip Corner, who composed music and sounds, proceeding – in what he defined as the last performance of his life – to destroy a grand piano, with the help of 4 volunteers. The emotions that went through the environment were so strong as to push many of those present to cry. So, for me the double joy of having seen my guests happy and intrigued and that of now possessing the only installation of this kind by the artist in a private collection (all the others are in foundations or museums).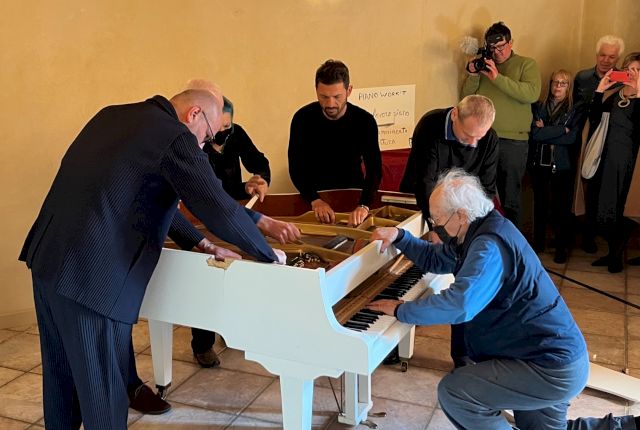 The next party with 60 friends from the art world will see an installation by Allan Kaprow and his 60 ties at the center of the evening, which will be worn to take what we now call a selfie to add to one of the bulletin boards started by the artist himself. A work I've been chasing for about 7 years and can't wait to share!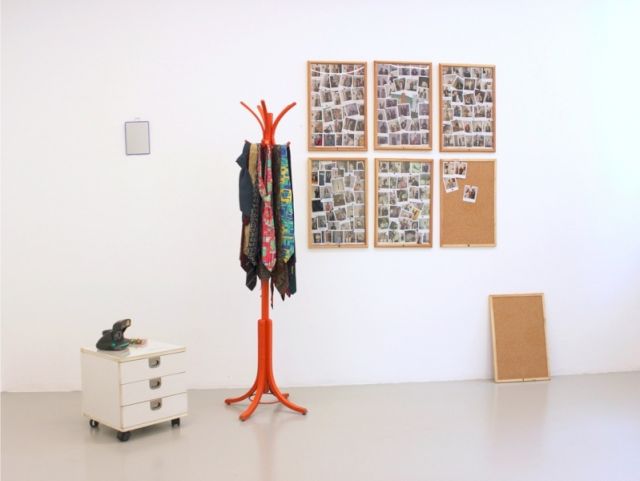 I also hope to be able to install Massimo Bartolini's belvedere soon and maybe invite my friends from the world of Argentine tango and dance on it, observing the universe.
Do you notice/observe any "trends" within collecting art?
The real trend now are colors, stencils, captivating shapes… in a word, "cool" with reference to the aesthetic side. Very conceptual, dirty, hard works always struggle a lot on the market... and I look for those! Buying "difficult" works gives shape to a collection, which otherwise would be standardized on all the others. Furthermore, abandoning myself to the trend of the moment would deprive me of the taste for research, the most beautiful moment, after that of possession: searching, browsing, investigating, analyzing and finally buying a very young artist or a good mid career artist who has exhibited in the most important and of which perhaps at this moment it is difficult to find the right work, in addition to the fact that following market trends would require resources that are certainly more important than mine.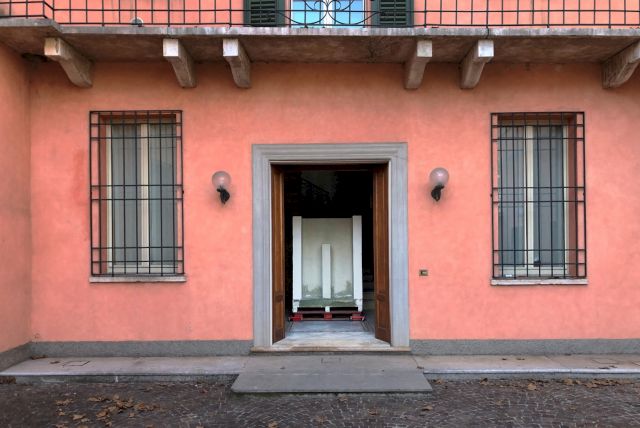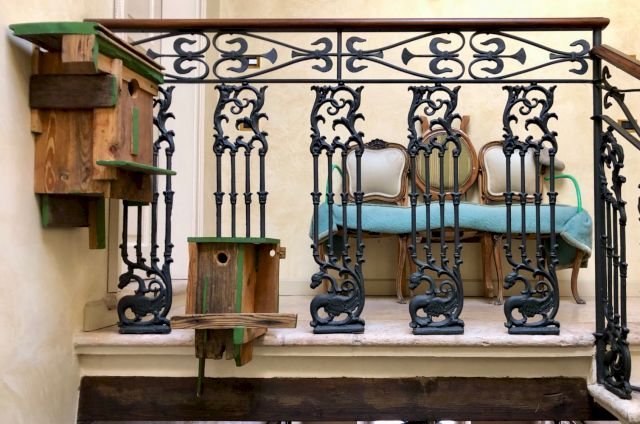 I have publicly criticized the race for NFTs, even in specialized magazines, about which I remain very skeptical: a market has certainly been created, but the technology they use I would not define as necessary for the art market. It is an authentication and nothing more, a problem that with traceability in the art world today can be guaranteed in many ways. I don't think NFTs will change the art market, at most they will be an alternative and more valid archiving medium for works that, if of quality, are even without this specific archiving.
On the other hand, I see in NFTs the possibility of large operations for communities of enthusiasts/collectors: promoting collective purchases and buying a fraction of a work, whose purchase certificate is authenticated through NFTs, can cause works to be kept in national museums or in cities with which the same works are perhaps linked.
I'm sorry to note the suffering that continues to affect the photography market, which I often buy anyway. I believe that to give collectors confidence in the specific support it will be necessary to guarantee reprinting through institutes/archives/foundations, to make the photos eternal as well.