Sammlung Wemhöner
A spontaneous exhibition set up in the now empty ballroom, before opening in 2023 as the collection's new home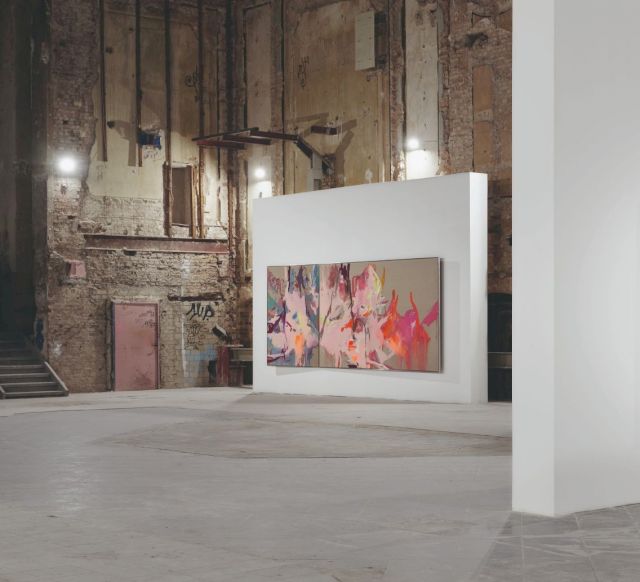 Michael Müller, Schwierige Bilder at Hasenheide 13, Berlin, 2021. Courtesy Sammlung Wemhöner
"The art I encounter and surround myself with improves my quality of life. It gives me strength and inspires me," says Heiner Wemhöner.
In spring of 2014 the businessman from the East Westphalian city of Herford presented around 90 works of his collection, compiled since the late 1990s, in Berlin's Osram-Höfe, the former home of one of Europe's largest lightbulb factories and former exhibition space of Max Hetzler. This was the first time he exhibited his collection publicly–and apparently he enjoyed it.
Since then, five exhibitions of the Wemhöner Collection have taken place in different Berlin locations, including Kunstsaele Berlin​​​​​​ and Sexauer, as well as in Milan at Palazzo Dugnani, which focused on moving images from the collection, presenting Isaac Julien, Julian Rosefeldt, Masbedo and Yang Fudong.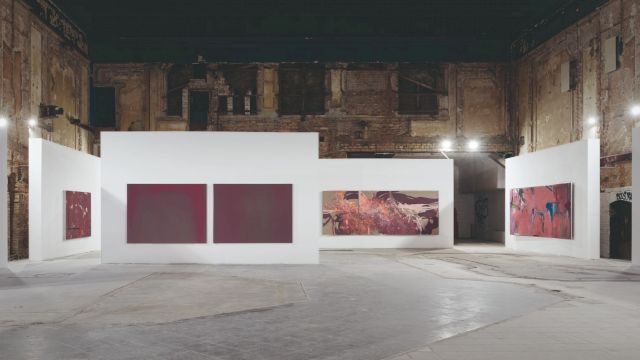 In Herford, Heiner Wemhöner makes use of his company building for a permanent display of around sixty collection works, with an additional private sculpture park installed with works by Georg Baselitz, Antony Gormley and Tony Cragg. Guided tours via appointment can be arranged.
Now taking a new focus, the Wemhöner Collection will occupy a historically charged Berlin location, in the less gentrified, yet rapidly changing and increasingly popular area of Kreuzberg. Set to open in 2023, Hasenheide 13 will provide the collection with a new home and a vibrant exhibition program. In the meantime, an extensive and delicate restoration will take place to the building, in order to maintain the integrity of such a place with many many lives. Built 120 years ago, Kliems Festäle was–a ballroom; a hospital during WWI; a theatre in the roaring twenties; a political meeting ground, which saw fights between Nazis and Communists as early as 1928; a movie theatre, Primus Palas, following WWII; and the legendary Cheetah club from 1968, which transformed the place into a rather futuristic disco vibe and saw up to 2000 guests at any one time. The Wall didn't affect the location so much, except for name and ownership changes, but then in the early nineties, its whole action went down. True Berlin style, things somehow picked up again with a gay sauna (that never actually opened its doors), and in most recent years, under the ownership of a vintage furniture business, with the add–in of a trendy drinking hole. This bar initially saw long waiting lines, was well loved by those who knew of it, and out far lived its initial pop-up allowance, to continue on as a speak easy…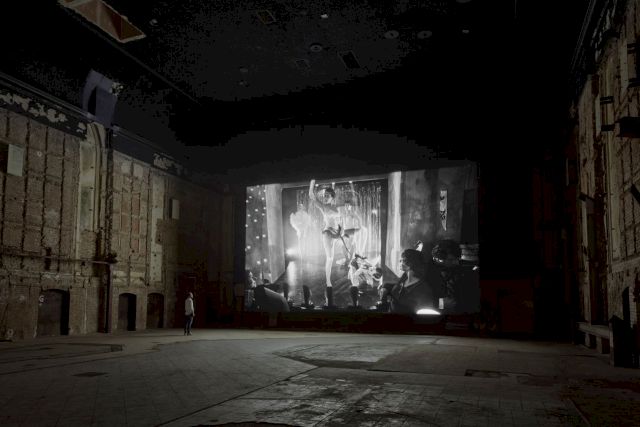 Prime investment turf, the building was planned to be demolished–luckily for Heiner Wemhöner, who discovered the place in 2018, acquiring it, and saving the cultural beauty. 2019 saw a glimpse of what can be expected for yet another publicly accessible collection in Berlin–the hall was emptied out and used for a special program, Collection Night, which gave focus to private collections, aligned with Berlin Art Week. Perfectly fitting, long time collection curator, Philipp Bollmann set up the grand Hasenheide hall with a booming screen showing Julian Rosefeldt's burlesque extravaganza, Deep Gold. This has set the tone for what is yet to come, engaging the urgency to reactive the location's history and dynamic happenings. This will be implemented with both the Wemhöner Collection (around 1,400 works) and external projects, inviting artists, collaborating with institutions and allowing a place for music and performance.
Just six weeks ago, in an effort to once again use the empty hall before renovations commence, planning began for the exhibition, Michael Müller - Schwierige Bilder (Difficult Pictures). For the first time, this focuses exclusively on the artist's painterly work.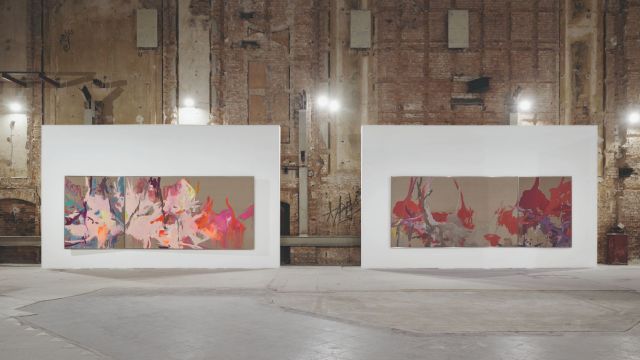 The focus of the exhibition is the seven-part, large-format series Difficult Pictures in which Müller explores the possibilities of abstraction in the twenty-first century and at the same time processes different tendencies in non-representational painting of the past century.
Michael Müller - Schwierige Bilder was due to open today Friday, April 30 as Berlin Gallery Weekend pushes on, but unfortunately due to the Covid-regulations, the exhibition remains closed until further notice. In the coming weeks however, there will hopefully be an opportunity to visit the exhibition which runs until the 1st of July. Visit the website below for updates.