A Self-taught Collector
Vass Collection - Veszprém, Hungary
Vass Collection in Veszprém in Hungary
In the beginning Hungarian craftsman László Vass collected mainly based on passion, guided only by personal preferences. However, after discovering the intellectual, social and financial rewards of collecting, Vass longed to understand how to navigate the art market.
Vass is a self-taught professional who is known in Hungary and beyond for his high-quality Budapester shoes. Also in the field of collecting, he came a long way by visiting galleries and studios, attending international fairs, meeting artists and reading every book he could, in order to build up a collection of importance. In contrast to the romantic landscape of the Veszprém area, clean, geometric lines and simple forms predominate the collection, reflecting the collector's clear vision that guided him along the way. By the end of the 1990s his private collection expanded dramatically and the Ernst Museum in Budapest happily offered to put it on a public display. The success of the show made Vass consider moving his collection to a new venue. After looking for a while, his collection found a home in old local government owned buildings in Veszprém – a picturesque town in northern Hungary near Lake Balaton.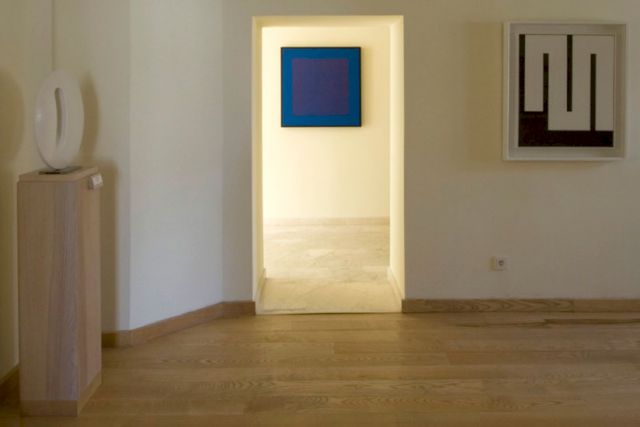 The complex of buildings consists of three houses all built in different times: two baroque corner houses and a main building of medieval origin, which have been seamlessly modernized based on the ideas of architect Gábor Turányi. The modern day interior perfectly complements the works of Dezső Korniss, Max Bill and Robert Mangold and the highlight of the garden, which connects the three buildings, is the work of sculptor, Marta Pan, a gift she gave Vass to the grand opening. With a floor space of over 100 square meters, the gallery displays more than 70 pieces, creating a compelling panorama on abstract art. Although Vass began with collecting the works of Hungarian artists in the 1970s, his collection currently houses works from more than 150 different artists from all over the world.
All images via Vass Collection / Photos: Gábor Áfrány